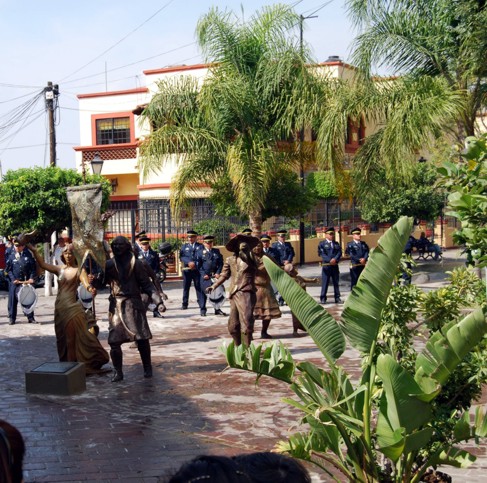 Living Sculptures Tlaquepaque Nutters or Contemporary Art?
Works by contemporary artists have been exhibited from The American Center Paris, France, to the Museum of Modern Art, New York USA. The Favelas of Barcelona offer this show as well.
This mobile art, I should say, Inmobile art, the sculptures will be in Tlaquepaque down town along pedestrian street on Friday 3 December from 16:30 hrs – 20:30 hrs. In its artistic expression bears the sun, cold, fatigue, hunger and other vagaries of life for 4 hours.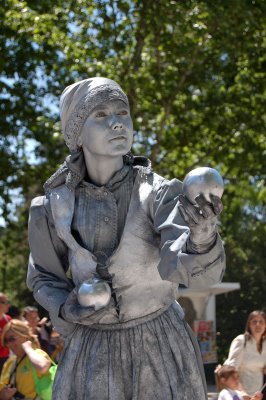 Through this body art a variety of feelings are transmitted. With their costumes, gestures and position of their bodies express tenderness and cruelty, love and hate, peace or violence. Although beauty is really in the eyes of the viewer. . Ourselves we will be exploring our intimate corners, like admiring a reflection of us in the mirror.
The peasant of the picture gives us apples with tenderness and sympathy, whereas the sleeping man presents us with some irony, the bittersweet taste of life. Both though very different in their expressions, pretend that our view is as nice in our journey through the world.
Their effort will be appreciated by passers of Tlaquepaque, at least one of them will be outside the GDL Tours office, Independencia 329, so tips and your cooperation for these artists is needed, pampering them is needed to they continue to transmit this contemporary art.
Think about it dear reader, it is not easy and it is very challenge to stay in one position for so long.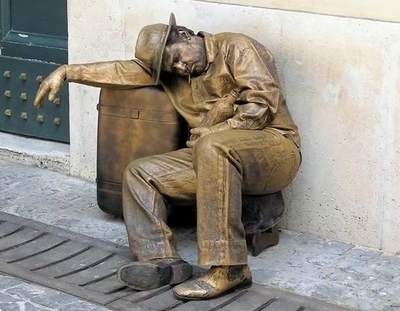 Gus Melor offers tours of Tlaquepaque gusmelor@gdltours.com