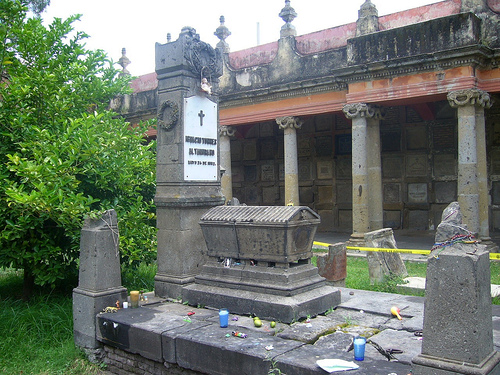 In 1848, the Belén Cemetery (also known as the Santa Paula Cemetery) was established next to the Old Civil Hospital in what was then the San Miguel Belén Orchard. The address is 684 Belén St.
The design of this cemetery was charged to the architects Manuel Gómez Ibarra upon to the request of the Bishop Diego de Aranda y Carpinteiro. Hhe was the same architect who rebuilt the Cathedral's towers after an earthquake had destroyed the original ones.
H e also built the dome of the city's Cabañas Cultural Institute. The Belén Cemetery only functioned during 50 years, at which time, in 1986, it was closed by order of the health authorities. Since then, it has become a sort of museum piece, capturing the 19th century, pre-revolutionary period within its thick walls.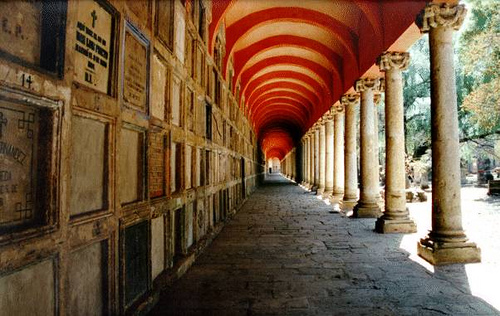 The cemetery design is neo-classic with the romantic influence of that century. The main doorway walls are of red quarrystone; overhead a grand arch with a high relief representation of two little boys crying. Back of them is an urn over which represent this passing of time. The mausoleum has 900 niches. The columns are made of carved pink stone and ionic finishes. The main cemetery is full of tombstones of all sizes and styles covering baroque, neo-classic, romantic and neo-gothic. Larges trees provide shade.
In the central portion, there is a chapel dedicated to the state's outstanding men honored for their contribution to science, the arts, law and religion. Even though the cemetery no longer functions on a normal basis, it is open to visitors Monday to Sunday to 9 a.m. to 3 p.m. It has become the custom silent corner of this graveryard, perhaps as a symbol of the constant regeneration of new life.