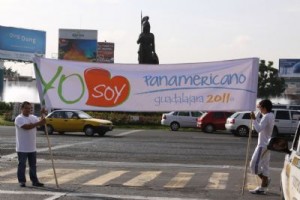 Guadalajara looking forward to the arrival of October. This month brings the eagerly awaited Panamerican Games, whose host this year to the beautiful city of Guadalajara, which has for several years in the process of transformation, as in the past did not have the facilities that account now.
Today Guadalajara has 4 new stadiums, which will be opened in the following months, until now have been completed: the tennis stadium, gymnastics, swimming and hockey stadium.
Panamerican Games will bring a big party which insurance does not want to miss.
So all the preparations are being carefully monitored, since this holiday includes the stars of the Parapanamerican Games, so the stadiums, villages and other areas necessary are remodeled to make way for athletes who need them and the audience that will use these distinguished facilities.
Panamerican Games include disciplines ranging from athletics, badminton, basketball, handball, bowling, boxing, diving, boating, cycling, fencing, hockey, judo, karate, weightlifting, wrestling synchronized swimming, racquetball, rowing, rugby, tennis shot, among many others.
Within the 42 participating countries are Mexico, Argentina, Canada, United States, El Salvador, among others.